Body Wrap
Business Opportunity
We offer two complete business opportunity kits which provide quantities all of our body wrapping products. The Business Start Up Kit features a warming oven and 1 gallon each of 4 different body wrap formulas. Both kits include samples of our cellulite treatment products. The Business Opportunity Kit features a sauna blanket, 5 gallons each of various formulas and 2 days of training in your salon. Call or text 1-321-514-0598 with questions, concerns or to schedule training in your salon.
Body Wrap Business Start Up Kit

Our most complete kit to begin body wrapping
Business Start Up Kit
$599
Start your own body wrap business with this low price package which includes the warming oven.

Now you can offer the same body wrap spa formulas of high priced salons in New York City, Beverly Hills, and Palm Springs.

Your clients may lose 5-15 Inches in one body wrap. Experience a cleansing and detoxifying wrap with our 99% pure Aloe Vera "collagen enriched" formula included in this kit.

With the Sea Clay and Sea Mud formula they will experience an all over pulling and tightening effect.

This kit has enough formula for 500 complete treatments, typically five times more than our competitor's for the same price. This kit includes:
1 gallon of Aloe Vera Collagen recipe

1 gallon Sea Clay Type

1 gallon Sea Mud

1 gallon Dry Mineral formula

1 Body Wrap Warming Oven

32 Ounces Amino Acid Spray

32 Ounces Miracle Gel

32 Ounces Slim Thighs

2 Vinyl Sauna Suits

2 Pair of Booties

4 Body Brushes

2 Tape Measures

30 Cotton-elastic blend wraps

30 Body Wrap Brochures

15 Dry Skin Brush Brochures

30 Client Measurement Charts

30 Pair Body Wrap Technician Gloves

2 Pair Insulated Gloves (to lift hot wraps from warming oven)

1 Internal Cleansing Book

1 Body Wrap Training Manual and DVD
Body Wrap Business Start Up Kit $599
Start Your Own Business Today

Compliment your salon with body wrap services
* The photos seen here are for illustration purposes only. These are actual pictures of our products in their packaging, but you may or may not receive everything in the photos depending on which kit you buy. Please review the kit contents for exactly which items are shipped.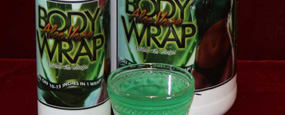 <<< If you are working from home or a small salon. The Business Start Up Kit is perfect to begin with as it contains 4 different formulas to offer your clients.
>>> If you are looking for the most complete kit with everything we offer, the Business Opportunity Kit may be right for you. Here are photos of our products you can expect to receive with these kits:
Body Wrap Business Opportunity

Wholesale kit includes 2 days of training
Business Opportunity Kit
$2,999
This is our most complete Body Wrap Business Opportunity Kit which features a sauna blanket and 2 days of training. If you want to start your own body wrap business and receive proper training in your salon, this premium package is for you. You will receive a Certificate of Completion when finished our training program.

The sauna blanket is an inexpensive "personal sauna" which is used to enhance the day spa experience and to kill time during the wrap soak period of one hour and possibly lose weight with the infrared heat of the blanket or sauna. When combining body wraps with infrared heat, you have a true weight loss program in effect.

Special features of this kit include a "warming oven", so you can soak your wraps in the various formulas prior to your client's appointment and manage your business like the most exclusive salons in New York City, Beverly Hills, and Palm Springs.

This kit has enough formula for 2500 complete treatments, typically five times more than our competitor's for the same price. This kit includes:
5 gallons of Aloe Vera Collagen

5 gallons Sea Clay

5 gallons Dry Mineral

5 gallons of Miracle Gel

1 gallon of Slim Thighs

12 Miracle Gel Gift Sets 8 ounce bottles

1 Body Wrap Warming Oven

1 Sauna Blanket

3 Vinyl Sauna Suits

12 pair of Booties

12 Body Brushes

6 Tape Measures

75 Cotton-elastic blend wraps

100 Body Wrap Brochures

100 Dry Skin Brush Brochures

100 Client Measurement Charts

100 Pair Body Wrap Technician Gloves

3 Pair Insulated Gloves (to lift hot wraps from warming oven)

1 Internal Cleansing Book

1 Body Wrap Training Manual and DVD

1 Body Wrap Training Certificate of Completion

2 Days of Training in your Salon
Body Wrap Business Opportunity Kit Price is $2,999