Found below are body wrap supplies for European style body wraps which have been around for thousands of years. Bandages are soaked in a heated mud, mineral, or aloe vera formula then wrapped around specific body parts or the entire body. A 45 minute soak period is recommended to allow the clay and minerals to work, detoxifying the body and pulling and tightening skin as it dries. Most salons utilize a sauna blanket or personal spa capsule during this soaking period to enhance the treatment experience. Call or text 888-612-3886 with questions or to place an order. Click on Add to Cart below to begin the checkout process.
White Body Wrap Bandages

50% cotton and 50% elastic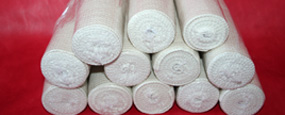 Introducing our white body wrap bandages which are latex free and do not have any elasticity. These are the highest quality we carry. These white wraps measure 6" wide by 72" long. About 15 wraps are required to cover the average body. Price is $4.50 to $175.00
| | |
| --- | --- |
| | (1) White Bandage $4.50 |
| | (15) White Bandages $60.00 |
| | (30) White Bandages $110.00 |
| | (50) White Bandages $175.00 |
Brown Body Wrap Bandages

60% cotton and 40% elastic
Our brown body wrap bandages are 60% cotton and 40% elastic material. More firm than our white wraps and measure 6" wide by 72" long. Requires about 15 bandages to cover the average body.
| | |
| --- | --- |
| | (1) Brown Bandage $3.75 |
| | (15) Brown Bandages $50.00 |
| | (30) Brown Bandages $85.00 |
| | (50) Brown Bandages $125.00 |
Body Brushes

Perfect for dry skin brushing
Pictured here is our Long Handle Boar Brush with Removable Handle which is used for "dry skin brushing" to remove dead skin cells and stimulate the sweat glands and open up your pores prior to cellulite treatment or a body wrap. a
Long-handle, 2 piece boar body brush
Price is $4.50 each
Special: 12 body brushes for $40
Warming Oven

Perfect for pre-heating body wrapping formulas
This is our body wrap warming unit used to pre-soak bandages in solution prior to the body wrap treatment. This heating unit will hold 50 wraps when you remove the inside pan. Heat wraps in formula to 150 degrees for at least one hour before wrapping. Price is $60.00
Vinyl Sauna Suits

For body wrapping and weight loss programs
This is a premium 12 gauge vinyl sauna suit used for body wrapping, weight loss, and detoxification. This is the most durable and high quality vinyl suit you can buy. Two Piece heavy-duty vinyl suit features elastic collar, wrists, waist, and ankles - generously sized for comfortable movement. Color: Navy Blue. You choose the size, please indicate size in notes of check out form. Price is $39.95

Small (S) (Waist Size 26-30)
Medium (M) (Waist Size 30-34)
Large (L) (Waist size 36-40)
Extra Large (XL) (Waist size 42-46)
2XL (XXL) (Waist size 48-54)
3XL (XXXL) (Waist size 56-62)
4XL (XXXXL) (Waist size 64-70)
5XL (XXXXXL) (Waist size 72-78)
Body Wrap Formulas

Aloe Vera, Sea Clay, Sea Mud, Dry Mineral
We offer six different body wrap formulas exclusively for our spa clients. The Aloe Vera based recipes include 99.9% pure Aloe, collagen enriched, and herbal seaweed type. Our earthly formulas include Sea Clay, Sea Mud, and Dry Mineral type. A perfect variety to offer your clients or for at home use.
Please view all Aloe Vera based formulas here »
Cellulite Reduction Products

Slim Thighs, Amino Spray, Miracle Gel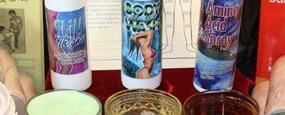 You can now buy a "sample kit" of our most popular cellulite treatment products in retail bottles like those shown here for only $45. You will receive:
Miracle Gel (8 oz bottle): This unique cellulite treatment gel can be used prior to aloe vera wrap and after the clay or sea weed type wraps. Perfect blend of aloe vera and seaweeds. More Miracle Gel size options.
Amino Acid Spray (8 oz bottle): Aloe Vera spray enriched with collagen intended for use after completing sea clay body wrap and prior to aloe vera body wrap. More buying options.
Slim Thighs (4 oz bottle): Maximum toning and sculpting results are achieved by applying every night. Contains caffeine to product noticeable toning and inch loss can be achieved in just a few weeks. Over 200,000 men and women have used Slim Thighs to rid the body of cellulite and lose inches while they sleep! More buying options.
Aloe Vera Body Wash (8 oz bottle): Daily use will deep clean and open clogged pores. The body can then excrete toxins and natural oils to keep the skin healthy. More Aloe Vera Body Wash options.
Cellulite Treatment Sample Kit. Price is $45.00
Baker's Dozen Miracle Gel Gift Set

Gift wrapped with a body brush for retail sales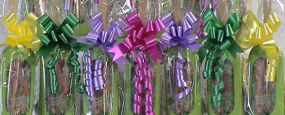 Our Miracle Gel contains Aloe Vera, seaweed and other all-natural ingredients. When combined with "dry skin brushing" our clients have reported amazing results at eliminating those unwanted and unsightly wrinkles we call cellulite.

We have "gift wrapped" sets of Miracle Gel with a dry skin body brush for day spa owners sell to their body wrap clients. Your price is $16.00
This gift package includes: 8 Ounce Bottle Miracle Gel; 1 Dry Skin Body Brush; 1 Dry Skin Brush Brochure; 1 Gift Wrap

We also sell these in a "Baker's Dozen" format where you can buy 13 of these fantastic resell items for the price of 12. Your price is $150