Our Sea Clay formula is a variation of the mud type which has been enriched with seaweeds.

Lose 5-15 Inches in one wrap with our famous Sea Clay enriched with seaweeds body wrap recipe in a premium white clay form. This formula will pull, tighten, and contour the body during the body wrapping experience.

This body wrap recipe contains a variety of seaweeds and other nutrients and has the look and consistency of mud.

One gallon of this Sea Clay recipe yields 50 complete body wrap services.

Click on Add to Cart to begin checkout.
Of course, all of our body wrap formulas and cellulite treatment gels pictured can be bought in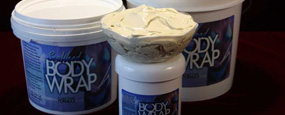 complete body wrapping starter kits located here. We use PayPal to process our transactions but you do not need a PayPal account to order. We accept all major credit and debit cards. Please review our shipping and returns policy. Call or text 1-321-514-0598 with questions or to place an order. Click on Add to Cart to begin the checkout process.
| | |
| --- | --- |
| | 1/2 Gallon of Sea Clay $50 |
| | 1 Gallon of Sea Clay $90 |
| | 5 Gallons of Sea Clay $350 |