We offer discount body wrap specials on many of our products when you buy in bulk or combination packages. Scroll below to find "sample kits" of our best cellulite reduction products and better prices when you buy gallons of our body wrap formulas. Please place an order 24 hours using our online ordering system below. We accept PayPal and all major credit cards. Your order will be processed within 2-3 business days.
---
Aloe Vera Collagen & Sea Clay
$99
Experience a cleansing and detoxifying body wrap and lose more inches when combining
aloe vera wrap with sea clay wrap. Package includes 1 gallon Aloe Vera Collagen formula (enough for 40 treatments) and 1/2 gallon Sea Clay body wrap formulas (enough for 25 full body wrap treatments)

This combo special includes:
1 gal Aloe Vera Collagen and 1/2 gal Sea Clay formula for only $99.00
---
Home Cellulite Treatment Kit
$45
You can now buy a "sample kit" of our most popular cellulite treatment products in 8 ounce bottles like those shown here for only $45. Here is what you get:
Miracle Gel (8 oz bottle): This unique cellulite treatment gel which can be used prior to aloe vera wrap and after the clay or sea weed type wraps.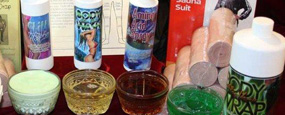 Amino Acid Spray (8 oz bottle): Aloe Vera spray enriched with collagen intended for use after completing sea clay body wrap and prior to aloe vera body wrap to cleanse the skin and open pores.
Slim Thighs (8 oz bottle): As seen on TV. Maximum toning and sculpting results are achieved by applying every night. Noticeable toning and inch loss can be achieved in just a few weeks.
Aloe Vera Body Wash (8 oz bottle): Daily use will deep clean and open pores, eliminating clogged pores. The body can then excrete toxins and natural oils to keep the skin healthy.
Cellulite Treatment Sample Kit. Price is $45.00
---
2 Gallons of Sea Mud
$99
You can now buy 2 gallons of our basic Sea Mud type formula which pulls, tightens,
and contours your body during the treatment process for only $99. You can also perform "spot" treatments on where ever your tissue is the softest and flabbiest.

This Sea Mud body wrap recipe contains Sea Kelp, is green in color, and has the consistency of mud. Can also be used as an all-over body mask or body scrub. One gallon of Sea Mud recipe yields 50 full treatments. 2 Gallons for only $99. More Sea Mud buying options are found by clicking here.
---
2 Gallons Aloe Vera Collagen
$99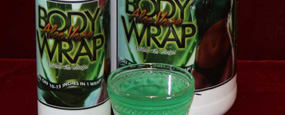 Our best selling Aloe Vera enriched with Collagen formula. Package includes 2 gallons Aloe Vera Collagen formula (enough for 80 treatments). More Aloe Vera buying options and sizes are located here.
2 Gallons Aloe Vera Collagen for only $99.