Description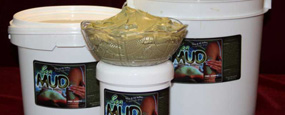 Our earth based body wrap formulas include Sea Mud, which will pull, tighten and contour your body during the treatment process.
Sold below is our basic Sea Mud formula which is a favorite of estheticians for facials masks because of its pulling of lose skin during the drying process.
You can also perform "spot" treatments on the parts of the body where the tissue is the softest and flabbiest.
One gallon of this Sea Mud recipe yields 50 complete body wrap treatments.