Lose 5-15 Inches In One Body Wrap
BodyWraps.com offers several home body wrap kits to help you get started with your home inch loss and cellulite program. One very important factor for you to realize is that you will notbody wrap instructions lose weight with a body wrap, not with any body wrap advertised on the market unless you are taking a weight loss product and have cut down on your calorie intake. You will need to take into consideration is what you wish to achieve by starting
your home body wrapping program. We use the word body wrap program or treatments simply because you will need more then one body wrap to achieve the look you want and to keep the inches off! It is suggested that you wrap your body twice a week for six consecutive weeks to see long lasting results. Most of our home body wrap kits contain enough product to wrap yourself at least 30 times. View all body wrap kits.
12-15 Bandage Wraps are Required for One Full Body Wrap!
It will take about 12-15 wraps for one body if you wish to wrap your body from head to toe, depending up on how much you weigh. If you weigh 250 lbs or more, it will take 20 wraps or more. It is important to stay warm during treatment. Put on the vinyl suit and the vinyl booties to keep the feet warm. During this time you can just lay on a bed or a massage table covering yourself with a plastic sheet and then an electric blanket. If using a Sauna Blanket you will only have to stay in the wraps for 45 minutes. If doing a partial wrap on your body targeting areas such as stomach, midriff, thighs etc. You would only need to use 6 Wraps.
Aloe Vera Products
The Aloe Vera products and the Miracle Gel cellulite treatment works best for ridding your body of Cellulite. You will lose Inches but not as many as with use of the Sea Clay, Sea Mud and Mineral. Aloe Vera is a cleansing and detoxifying wrap, plus will help you to rid your body of cellulite. With bentonite clay minerals and some secret ingredients added you will experience an all over pulling and tightening effect of your skin. View Aloe Veraand cellulite treatment products.
Directions for the Aloe Vera Herbal Detox Treatments:
#1. Mix your Aloe Vera wrap formula, One cup to 2 gallon of water, heat in a crock pot or purchase a warming oven to keep your body wraps in. Heat to 150 degrees for at least one hour.body wrap training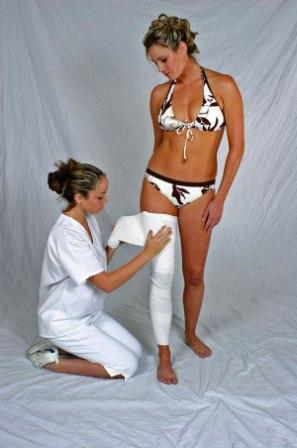 #2. Dry skin brush all over the entire body to exfoliate the dead skin cells and open up the pores of the skin. Read paragraph below about dry skin brushing and it's benefits.
#3. Apply the Miracle Gel (cellulite treatment product) massaging into your body. See paragraph below on the benefits of the Miracle Gel.
#4. Apply the wraps to your body (it is usually helpful to do this procedure with a friend as it is difficult to wrap your arms)
#5. It is very important to stay warm during the wrap procedure, you can lie in a Sauna Blanket or wear our vinyl Sauna
suit for one hour. During this time you can lay and relax or work out on an exercise bike, treadmill, or walking, better results are achieved by using a toning table also.
Sea Clay, Sea Mud & Mineral Body Wrap
Step 1. Sea mud or clay type wraps firm and tighten. Before the wrap, dry skin brush the entire body to exfoliate and prepare the skin for the application of the product.
Step 2. Apply the Sea Clay (enhanced with seaweeds) body wrap recipe directly to the body. A thin layer will do.
Step 3. Wrap your body with the bandages that have been soaking in the Aloe Vera, or Herbal, or Basic Amino Formula. Any of our formulas will work for this.
Step 4. Stay in the wraps for at least one hour or 45 minutes if using a sauna blanket.
Step 5. Remove the wraps, wiping off the excess clay with the wraps, or use a wet towel.
Step 6. Apply the Miracle Gel cellulite treatment, massaging into your skin. This will help rid the body of excess residue plus soften, smooth and tone the skin.
Step 7. Important do not shower for 6-8 hours after the wrap.
Step 8. You can wrap yourself every other day , but leave a day off in between, because the wrap is still working.
Benefits of Dry Skin Brushing
"What are the benefits of Dry Skin Brushing?"
dry skin brushing

Did you know that your skin is your largest organ? Your skin grows daily. There is a continual layer of dead skin lying upon the surface of the skin. This needs to be exfoliated daily. Dry skin brushing before the body wrap will rid the body of these dead skin cells, open up the pores, stimulate the sweat glands and brush up your blood circulation. It's just like giving yourself a massage with a brush. This is the most important part! Cellulite is the indirect cause of poor blood circulation. After this procedure any application of gel or lotion has a better chance of penetrating through the pores of the skin. There are many books written about the Benefits of Dry Skin Brushing. Internal Cleansing by Dr. Linda Berry. Dr. Berry's book is included FREE in most of our body wrap kits.
Miracle Gel Directions
Before each Aloe Vera or Collagen wrap, apply Miracle Gel (our unique cellulite treatment gel) massaging into the cellulite areas. Made of the finest pure Aloe Vera and Seaweeds, designed to prepare the skin for detoxification. Miracle Gel penetrates into the adipose tissue where the excess fats and toxins lodge and distend the cell membrane. Miracle Gel will help to smooth, and soften rough scaly skin. Great for psoriasis! Buy a bottle and use daily to receive it's many benefits. These excess fats and toxins weaken the skin cell membrane's. As a result, the area becomes more vulnerable to further stretching, damaging connective collagen tissue, compounding the problem. Miracle Gel helps to release these fats, fluids and toxins. Then start wrapping with the wraps that have been soaking in the Aloe Vera Herbal Formula.
Miracle Gel Home Cellulite Treatment
Miracle gel and dry skin brushing at home every day will help rid your body of cellulite and help to reduce inches. In between your wrap treatments you can experience "inch loss" and cellulite reduction by dry skin brushing your
body, concentrating on cellulite areas, then applying our Miracle Gel and wearing a vinyl sauna suit. The Vinyl Suit keeps the body warm and helps to open up the pores of the skin so the gel can penetrate to the third layer of skin where the cellulite has formed. Instructions for home care treatment:
body wraps at home
Step 1. Dry skin brush your body, concentrating on cellulite areas. Spend at least 5 minutes on this procedure starting at the ankles in a circular motion going up the legs, thighs and stomach, this can also help with arthritis pain and psoriasis.
Step 2. Take a shower to get the pores open but do not use soap as that will clog the pores. Try our newly developed Aloe Vera Body Wash or purchase a wash at your local store.
Step 3. Towel off and apply Miracle Gel massaging into cellulite area. Miracle Gel is an excellent skin softener plus cellulite treatment.
Step 4. Wear a vinyl suit to keep the body warm and to keep the pores open. Keep suit on for at least one hour, while walking or exercising. The heat created from the suit keeps the pores open and lets the Miracle Gel penetrate down to the third layer of the skin…where the cellulite is formed, which will help shrink fatty deposits.
Rules to keep inches off
1. No eating after 6:30 p.m.
2. Drink eight to ten glasses of water a day to cleanse your body.
3. Limit your salt, sugar and caffeine intake.
4. Avoid carbonated beverages, sweets & starches. Carbonation holds toxins in.
5. Cut down on animal fats. Fiber and complex carbohydrates are excellent substitutes.
6. Do not shower before the wrap or for 6-to 8 hours after. Soaps, lotions and creams clog the pores of the skin and will hinder the effectiveness of the body wrap.
7. Dry skin brush every day before your bath to firm, tone and tighten skin.
8. Exercise at least three times a week.